Erato Audio strives to engineer the best sounding true wireless audio products on the market without the unnecessary bells and whistles. We're committed to deliver a product you'll love and believe it will become an integral part of your everyday life.
A few months ago, we crowdfunded the Apollo 7 and recently shipped over 20,000 units globally to backers and distributors. The Apollo 7 received numerous awards including the Honorable Mention Red Dot Award for Design, Mashable's Choice Award, and even earned the Digital Trends' Recommended Product badge of approval.
From the feedback we gathered, our team listened to what's most important and implemented many new features in our latest products. Erato Audio is excited to announce our next generation of true wireless earphones for the first time here on Indiegogo.
Introducing the Muse 5 and Rio 3


Effortless Wireless
Both the Muse and Rio are designed to be completely wireless. Enjoy high performance audio without a wire in site - using Advanced Audio Coding (AAC) and aptX™ to bring out quality sound from your digital sources.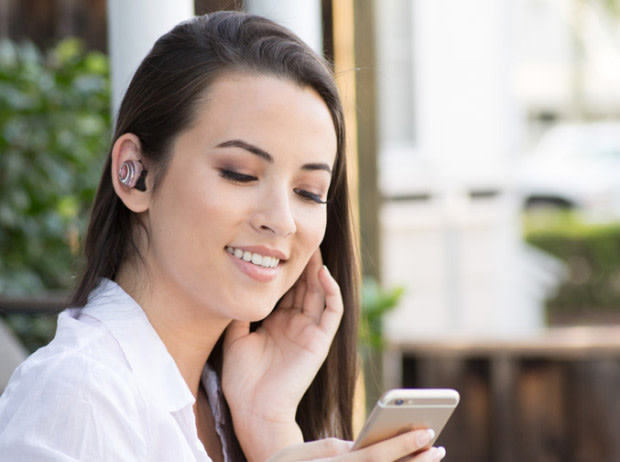 The Muse 5 was modeled after the award winning Apollo 7 platform and embodies similar internal characteristics. A common issue with in-ear audio devices in the market today is the seal around the ear canal, which effects sound quality and bass response.
The patented FitSeal™ silicone sleeve creates a truly customized fit for most ear shapes and sizes while optimizing sound quality. Unlike traditional earphones offering only three sizes (S M L), the Muse 5 can be customized into nine different combinations

FitSeal™ offers two key features: Comfortable fit and superior seal. Having a quality seal decreases outside noise and increases bass response. By offering a variety of size combinations with FitSeal™ sleeve technology, we address fit issues seen with other earbuds.

Whether you have a small ear canal and large conch area or a large canal and smaller conch area, we have a solution for you. FitSeal™ sleeves allow the user to use a comfortable tip while securing the ear conch area with the right sleeve creating a quality seal to experience the harmonic music and bass we've designed for you.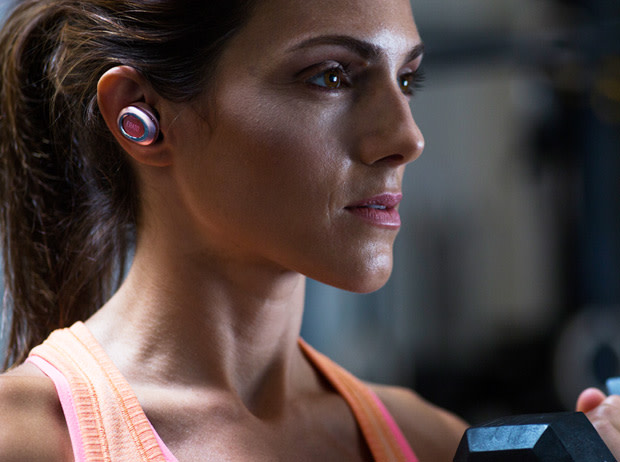 With the FitSeal™ sleeves in place, the sleeve only needs to grab on to 2-3 corners of the ear and the silicon will hold the earbud in place without falling out, even in extreme conditions.
With FitSeal™, it eliminates the discomfort traditional earphones cause over a long period of use. Instead, the sleeve creates a natural seal on the outer ear (conch area) while holding the earphones in place at the same time.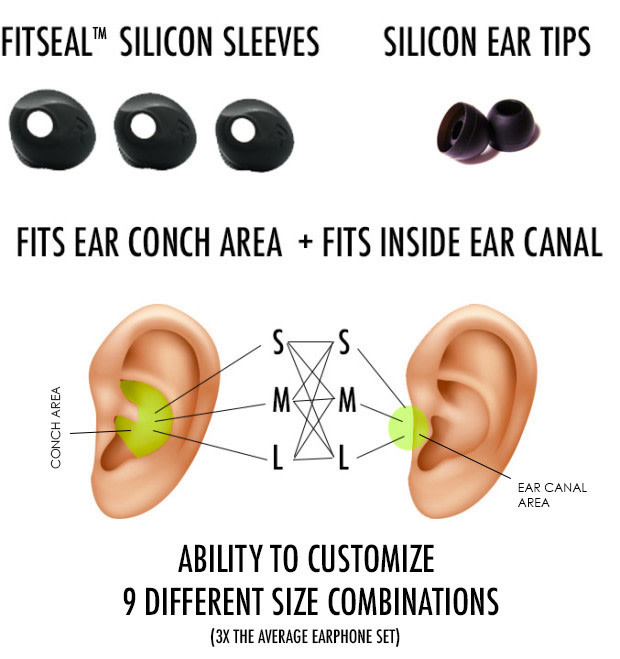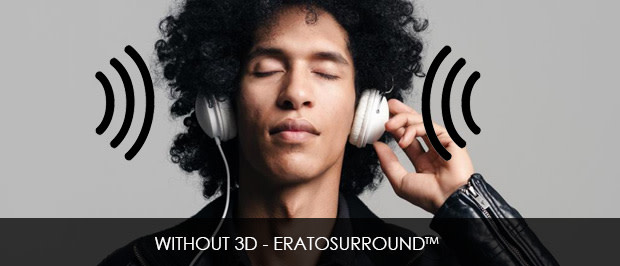 Traditional stereo earphones create surround sound enabling you to hear individual sounds come from every direction (left, right, front, back) Unfortunately, it does not allow you to evaluate the distance of each sound being emitted and whether a specific sound is close or far.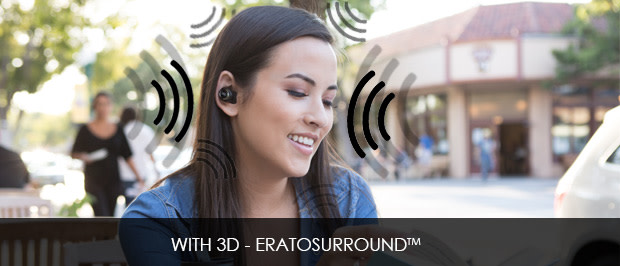 By using digital sound processing technology in our true wireless earphones, we can restore the spatial distance missing in traditional earphones. Calibrated with our micro-driver and its acoustic chamber, ERATOSURROUND™ can reduce sound image distortion to create a more accurate sound stage.
With our advanced audio technology, we're able to deliver the same experience as heard in expensive over the ear headphones for a fraction of the price.

The Muse 5 has an audio playback of up to 4 hours, however comes with a carrying case with a battery built in to recharge the Muse 5 up to 3 times on the go. The innovative case can be recharged via micro USB cable, included in each Muse 5 package.
Available colors below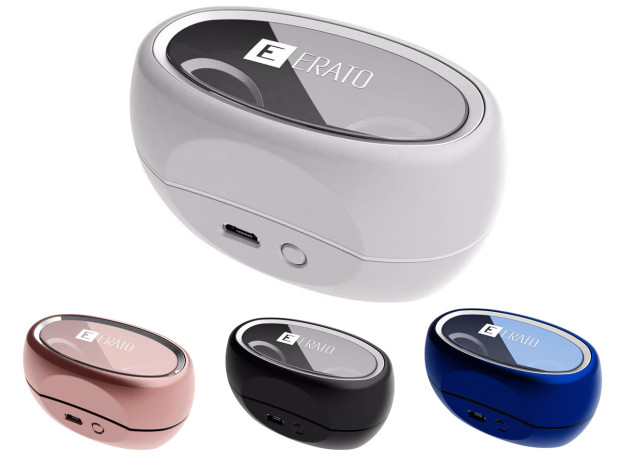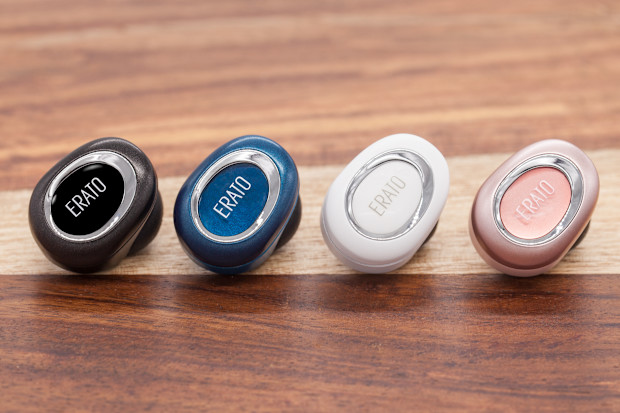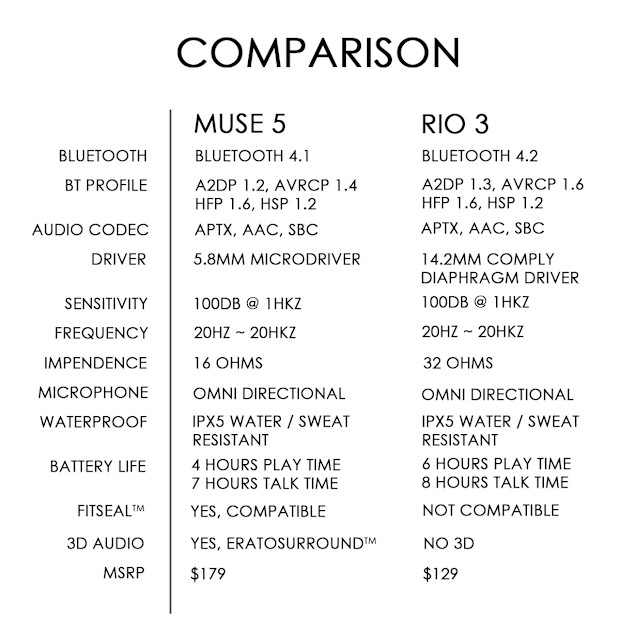 ERATOSURROUND™ Explanation:
ERATOSURROUND™ can help recreate audio recordings in its most natural state. For example, when a pianist is performing, we hear sounds differently as the music enters our ears at different times. Even if it takes a few microseconds for the sound to reach either ear, one ear should hear the tune slightly louder than the other as your ears are positioned closer and further away from the piano.
Recordings can be done in a variety of ways. Some record in stereo with two microphones and others use a binaural recording, where additional microphones are placed to process sound as if was heard live, preserving the audio to create the most realistic experience. While possible with large speakers by splitting it into 5, 7, or even 10 channel surround sound setups, it's difficult in earphones this size. Others have designed headphones with spatial 3D audio by integrating multiple drivers in the headphones but can cost up to hundreds of dollars.